Red Line Project – Eastern Segment
The light rail project in Tel Aviv is the largest transportation project of the Ministry of Transportation that is being performed today and is expected to significantly change the transportation reality in Gush Dan.
In November 2015, Denya Group's and China Civil Engineering Construction-Corporation's (CCECC) joint venture was awarded to execute stations, plan and execute tunnels and chambers in the red line of the light rail.
The work has commenced in January 2016 and is expected to continue for six years.
The main scope of work relating to the tunnels includes planning and execution of 2 main tunnels with a total length of about 6.2 km that will be performed through TBM method, main tunnel, two underground chambers and 8 connecting tunnels.
The joint venture constructs 3 underground stations in the eastern section-Ben Gurion, Aharonovitch and Em-HaMoshavot.
In addition, the project has been awarded the execution of Karlibach station which is the largest underground station in the Red Line, which combines the red line station, the green line, and a sunken passage to vehicles from the Karlibach and Lincoln Streets to Yitzhak Sade Street.
Line location: Petah Tikva – Bnei Brak, Depot Petah Tikva – Em HaMoshavot" – Geha Interchange – Jabotinsky Street.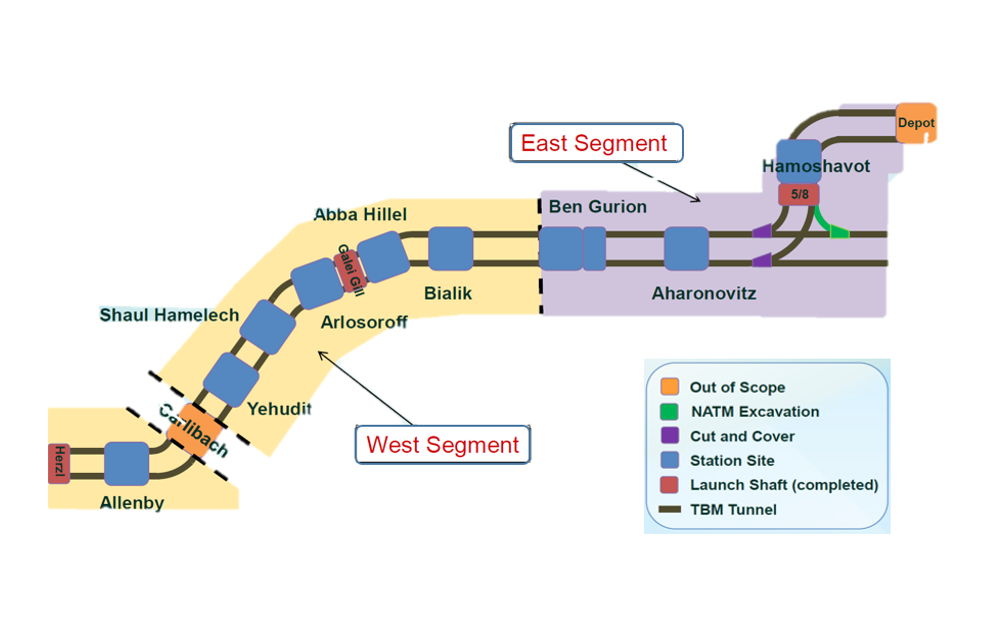 The red line is of tremendous magnitude which execution poses great challenges.
The red line will be the "backbone" of the IAI system (a high-traffic transportation system), passing through the busiest areas of the metropolis and will serve the greatest number of passengers in comparison to future lines which shall be constructed as part of the Ministry of Transportation's transportation vision.